Mostly I write this blog in Russian cause it's much faster for me. I don't spend time for translation some words which I don't know in English. And also I don't bother about grammar cause in Russian I write automatically but in English I have to think about sentence's construction.
Well, the next item of my trip is Vienna. I've always wanted to visit it. I've heard only good advices about it.
Night bus ticket from Munich costs 24 euro. I've arrived at 5.30 am to the almost suburb of the city.
It's still dark outside.
Way to the center of the city is about one hour. But check in my hostel is only at 2pm.
By the way, I found a CS host in Vienna but the story is absolutely the same as was in Strasburg.  My host was gonna be home only tomorrow therefore I had to book a hostel for the first night. I've found the cheapest option in Hostelworld for only 10 euro. It's very cheap for such expensive cite as Vienna, but it's fucking 800 Russian rubles now. That's sucks when you live in crisis country.
There are pumps on bicycle parkings in Vienna
Up to 2 pm I was siting on the internet in McDonald which is great here. Speed is pretty high and time is unlimited. But the bathroom was chargeable and with turnstiles. I had to go to the toilet in the nearby shopping mall.
The hostel turned out to be sucks as I expected.
Reception
The room itself is in the next building. It looks very Spartan. There was written in references that the internet here is shitty but it turned out that internet is pretty good here. Use a towel costs 1 euro, for locker it's possible to take a lock for 5 euro as deposit.
Kitchen
Then I went doing some grocery shopping as tomorrow is gonna be Sunday, European shabbat. It was in all countries where I was, except the Holland. The Dutch are great fellows and they work on Sunday. A supermarket next to my host's house was open.
There are baskets in the LIDL, unlike Germany. All off the buyings are carried in the hands in Germany if you don't take a cart.
Lets compare prices in Austria to Germany
My favourite LIDL's yogurt costs 40 cents. 29 cents in Germany.
Milk. 79 and 89 in Austria. 51 and 55 in Germany.
The same pack of raisins costs 84, it's 79 in Germany.
Fruits and veggies are approximately the same price.
According to my calculations the prices in Austria are higher by 25%. That's not so bad considering. The prices in Switzerland seemed 2 times more expensive.
Animal orchestra on the walking street
Some popular cafe, next to hotel Sacher. The place is in all guidebooks.
There are a lot of different icons of pedestrian traffic lights. It's about half of them with two little men. Sometimes they run, sometimes there is a heart in between them, sometimes it's "boy and girl", sometimes it's "boy and boy" and probably there are a lot of other options yet.
One of the most interesting and unusual things in Vienna is newspapers on the poles.
Probably if you want to buy it you should put a coin to that device on the picture. But I didn't use it, I don't know how that works.
It's all over the place
Taxis here are not in one style. And in general, the city has something of Eastern Europe. Driving to Bratislava takes only 1 hour.
River water is green like this fence.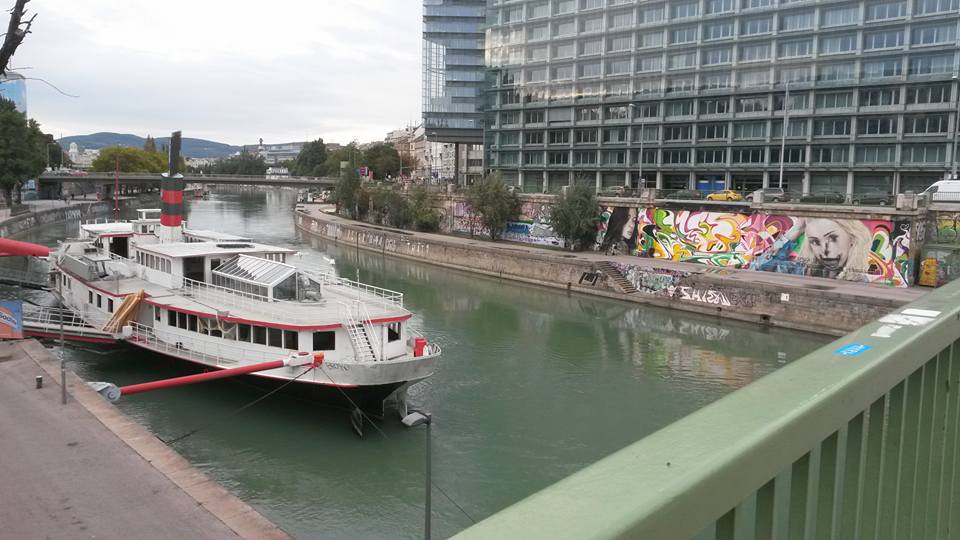 Construction crane is hanging over the road like in Zurich and Munich.
Metro station is worth it to take a picture it.
It looks like there is a good Russian community here.
Russian book store
Supermarket "Buratino" (Russian Pinocchio)
I thought there is nothing to surprise me here in terms of architecture. During last month I've been seeing quite a lot of European cities and towns and I've pretty tired of them. But Vienna could do this. Architecture here is excellent and it's not like any other.
This is for example street-over-another-street construction. I have never seen something like that.
One more detail of Vienna. All of tobacco kiosks have this signboard.
Another some place which probably mentioned in guidebooks. The queue is even on the street.
And their eagle almost like our Russian.
One crazy guy broke a jar of paint in the hostel in the evening. Some junkie. Yeah, that's crappy hostel haha. First that was fun, especially because my staff wasn't blurred. But then that company with that junkie guy run away from the hostel. At night I found out that my sneakers were stolen. Fucking assholes.
Next day morning I was hanging around on the internet.
Then I did a little walk around the center
In the evening I had a meeting with my host Nico. He wrote me a massage in the morning that he has to go to the Berlin next day. So I stayed with him for one night only, it was the shortest my stay during this eurotrip. Nico works in the field of show business. He organizes events, concerts particularly. He is 27 years old.
Nico cooked a pumpkin soup. It's very tasty.
Entrance hall. We went for a beer.
This beer is the best beer I've tried. It is not bitter at all.
They throw garbage in a different bins at home.
Nico's room. My mattress is on the floor. Room is very interesting. There were a lot of old furniture in it.
Nico's desk
Old school radio. It's in working condition, by the way.
The next day morning my host has fed me a breakfast and I went to the bus station.
Nico's neighbourhood. A lot of people are on the street. Today is Monday. Everybody is going to work. Monday's atmosphere.
At the bus station I barely found my bus. It was quite away from all. I came in the last minute. Next stop is Bratislava which is only one hour drive from Vienna.